N
ormal Combo Cards can be obtained from difficult Shadow Missions, Theater Missions, and Hard Mode Dungeons. These Combo Cards provide a variety of ways to dispatch your enemies. If you perform a skill set in a specified order, each consecutive skill will gain a damage bonus. Unfortunately, even if you find a good card where all skills synergize, it will expire within 30 days.
P
remium Combo Cards are the answer to your Combo Card Woes. By picking up a Premium Combo Card Summons from the Web Shop, you will be able to generate a Premium Combo Card, right there on the spot. This combo card is similar to normal combo cards - it has between two and six slots, each containing a different skill. Premium Combo Cards will also expire in 30 days from the moment they're created. The difference between a Premium Combo Card and a normal Combo Card is that you can change skills and even extend the lifetime of your Premium Combo Card through other items!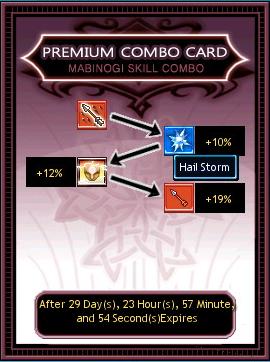 S
uppose you generate a 4-slot Premium Combo Card, but one of the skills just doesn't synergize with the rest of the skills loaded on the card. You can remove a skill and replace it with another random skill by using a Combo Card Slot Change Coupon. Using the coupon will open up a list of your Premium Combo Cards that can have skills changed. Select the Combo Card and the Skill you would like to change. With a little bit of luck, you get a better skill instead!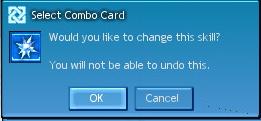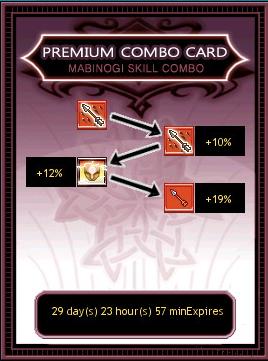 N
ow that you've engineering your perfect 6-slot Premium Combo Card, there's no need to lose it to the expiration countdown! You can extend the Premium Combo Card's life by using a Combo Card Extension Coupon. This coupon will extend the life of a Premium Combo Card by 30 days. As long as you keep the Premium Combo Card's life extended, you'll have it around for as long as you need it!
The official announcement can be found here.

ftwinz

WOTO. +2





Posts

: 949


Join date

: 2009-02-19


Age

: 32


Location

: LA, CA





Similar topics
---
Permissions in this forum:
You
cannot
reply to topics in this forum